TUCSON (KVOA) -- Arizona Basketball is off to a 3-0 start to the Tommy Lloyd Era and junior center Christian Koloko is a large reason why.
Koloko led all scorers with 16 points in the Wildcats 97-45 victory Tuesday night over North Dakota State. This performance was coming off his first career double-double with 18 points and 11 rebounds against University of Texas Rio Grande.
Koloko had 10 blocked shots in UA's first two games and he's the first Arizona player in the last 25 years to accomplish that feat to open a season.
He's also the first Wildcat since Jordan Hill in 2008 to have at least 10 points, 10 rebounds and five blocks in a game.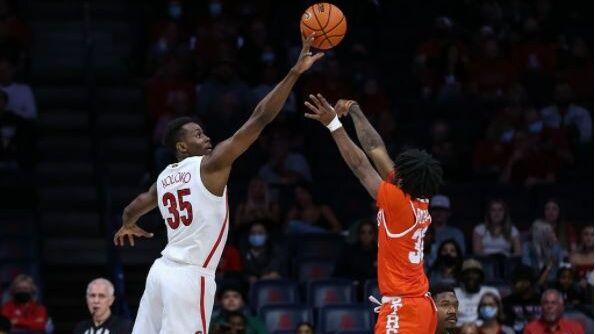 Current NBA rookie Evan Mobley (Cleveland Cavaliers) was the only Pac-12 player with a 10+, 10+, 5+ game last season in the Pac-12 and he did it four times.
Koloko, a native of Cameroon Africa, had two more blocks Tuesday night and his now 12 on the season is tied for the most by a Power 5 player in Division I college basketball.
Copyright 2021 News 4 Tucson. All rights reserved.