TUCSON (KVOA) - For about two months, the New 4 Tucson Investigators have been looking into complaints against Tucson-based pool company Imperial Pools & Design and its owner Patrick Crone.  
More than two weeks ago, the N4T Investigators introduced you to four unhappy customers - Catherine Savani, Rochelle Prettitore, Heather Fordyce and Michael Wahl. Prettitore and Savani both had issues getting their pools finished while Fordyce and Wahl experience issues after getting their pools completed.
"The whole process has been a nightmare for us," said Fordyce. 
 "I feel stuck between a rock and a hard place," Prettitore said.
"I would never use him again as a contractor," Wahl said.   
"Honestly, I don't believe he had any intention of ever finishing our pool," Savani stated. 
Patrick lost his KA-6 Dual Pool Contractor license last month after a consolidation of six unresolved customer complaints to the Arizona Registrar of Contractors. He is able to hire licensed pool builders because he still has a General Contractors license, but the ROC is already investigating three complaints against that license and tells the N4T Investigators it will likely be revoked soon. 
"Only 5% of licensed contractors out of the 43,000 licensed contractors [in Arizona] ever get a complaint, ever even get one complaint," said Jeff Fleetham the director of the Arizona ROC.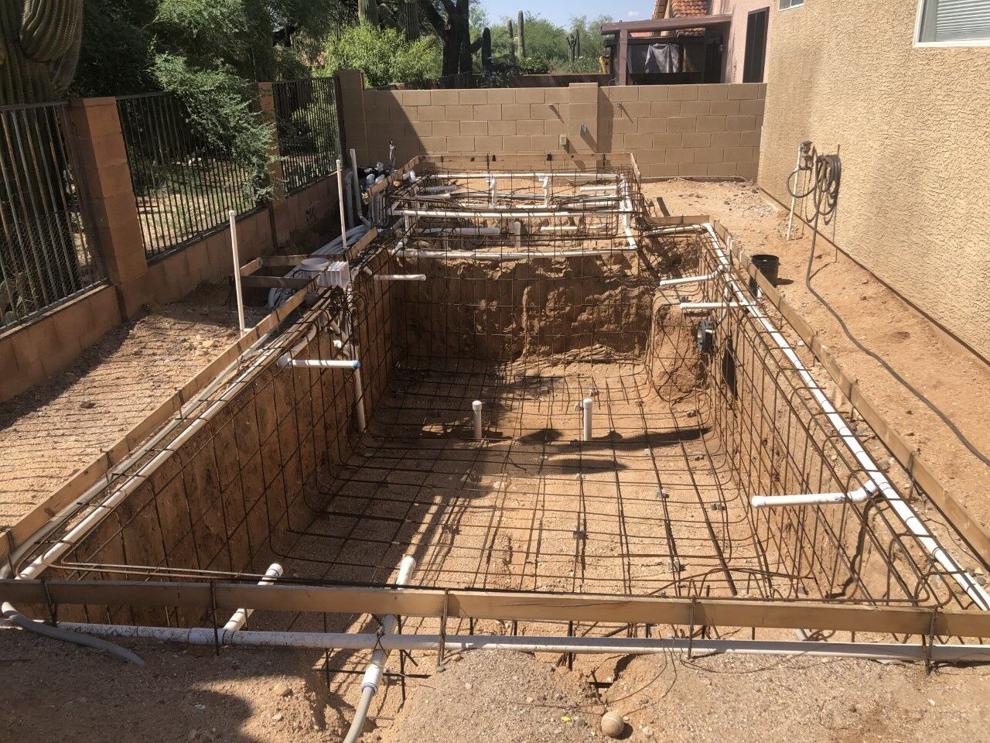 After our report, several other customers reached out to the N4T Investigators saying they have been dealing with similar issues.
Customers like James Murphy in Green Valley.   
"We just want to get out of the contract and get our money back," Murphy said. 
Murphy signed a contract with Imperial Pools in May to build a small pool, known as a spool, in his backyard. He said he paid the first payment of $16,000 to begin excavation. He said Imperial removed some pavers in the backyard and that is it. He said Crone would set a date to begin work and no one would show. 
"We have texted him, called him and called his office we have heard nothing back," Murphy said. 
Crone said more than two weeks ago that he was going to get all his jobs done in two to three weeks. Murphy said no permit has been applied for his property, that alone could take several weeks. 
"We have contacted an attorney, a contract attorney and that's where we go from here I guess," Murphy said. 
Mylena Dominguez said she spent more than $30,000 and was told the pool would be completed in July. Her backyard was excavated and that is as far as things have gone, her pool failed Pima County inspection after Imperial Pools already began working. She believes Imperial should have known it would fail inspection and not take their money to begin work.    
"I am really scared he is going to walk away with that money and leave a hole in my backyard," Dominguez said. 
Since our last report, Rochelle Prettitore said Imperial began working on her pool's water feature but ran out of tile and claimed to be unable to find the correct tile. She said she was able to go find the tile herself and bought it. Imperial did deliver her pool equipment but she says they have yet to further work on the pool itself.   
"I don't know why he couldn't get the tile for us," Prettitore said. "Out of all people, he should be the one getting the tile, not me. But I was able to find it and get it so hopefully my water feature gets done soon."   
After spending around $28,000. Catherine Savani fired Crone and Imperial in July after several delays blamed on material shortages. She says she spent $15,000 to have someone else finish the pool. 
"So we got our pool finished very quickly during August and have been enjoying it since then," Savani said. 
Imperial Pools is no longer a Better Business Bureau accredited business and has not been for months. However, the N4T Investigators found a BBB Accredited logo still on its website.
We informed the BBB which said it considers it trade mark infringement and said it would take appropriate action.  
In a text to N4T Investigator Chorus Nylander, Crone said his company has finished 17 jobs since our last report. He referred to the customers we spoke to as "bad clients" and said, "This is business and these clients that approached you are using my personal name as if we are personally involved which is not the case." 
Everyone we spoke to said they have personally dealt with Crone. 
On Sept. 15. in a text message, Crone said he was selling all of his shares to someone larger than him. In a text on Oct. 4, Crone said he's not selling his shares but helping one new builder locally and a company out of Phoenix.  
We will continue to follow this story. 
If you have a tip you'd like us to investigate email us at investigators@kvoa.com or call our tip line at 520-955-4444.