TUCSON (KVOA) -- Serge Gboweiah ran away and hid from the Marana Tigers in 46-28 win Friday night for Desert View.
The talented senior running back had touchdown runs of four, 25 and 56 yards, compiling 315 yards as the Jaguars (4-0) remained on unbeaten on the season.
Senior wide receiver Enrique Cancio made the play of the night right before the half when he grabbed a 21-yard strike from quarterback from Oscar Barraza with one hand at the back of the end zone. Cancio secured the ball and got both feet down in bounds for the touchdown, giving Desert View a 20-14 lead at the half.
Carlos Alvarez ran for a pair of touchdowns as the Jaguars took advantage of costly Marana turnovers to go along with a second half safety.
Elijah Joplin had two running touchdowns (21 and 12-yards) for the Tigers (4-1). He also threw a touchdown pass to Jaelen Collins.
Desert View will host Nogales next Friday night before a much-anticipated home game against Salpointe Catholic on October 15.
Marana will look to rebound next week at home against Sunnyside.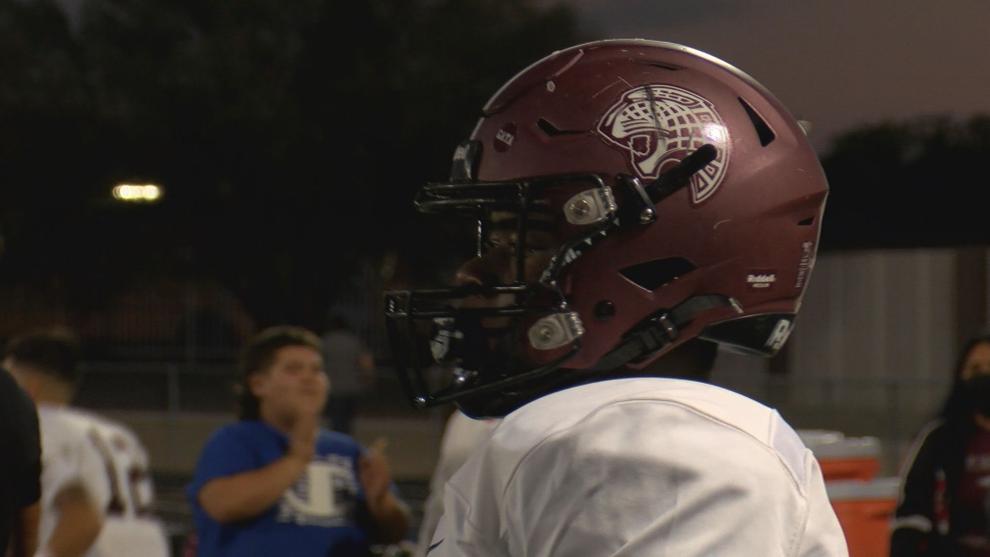 SCORING:
(D) Carlos Alvarez 1 TD run (D 6-0)
(M) Matthew Jensen 40 TD run (M 7-6)
(D) Serge Gboweiah 4 TD run (D 12-7)
(M) Elijah Joplin 21 TD run (M 14-12)
(D) Enrique Cancio 21 TD rec from Oscar Barraza (D 20-14)
(M) Jaelen Collins 2 TD rec from Elijah Joplin (M 21-20)
(D) Carlos Alvarez 20 TD run (D 28-21)
(D) Safety (D 30-21)
(D) Serge Gboweiah 25 TD run (D 38-21)
(M) Elijah Joplin 12 TD run (D 38-28)
(D) Serge Gboweiah 56 TD run (D 46-28)
Copyright 2021 News 4 Tucson. All rights reserved.