Chilly start to your Thanksgiving Day with temperatures in the 20s, 30s and 40s! Highs will only rebound into the 50s and 60s this afternoon and it will be breezy at times with tons of sunshine.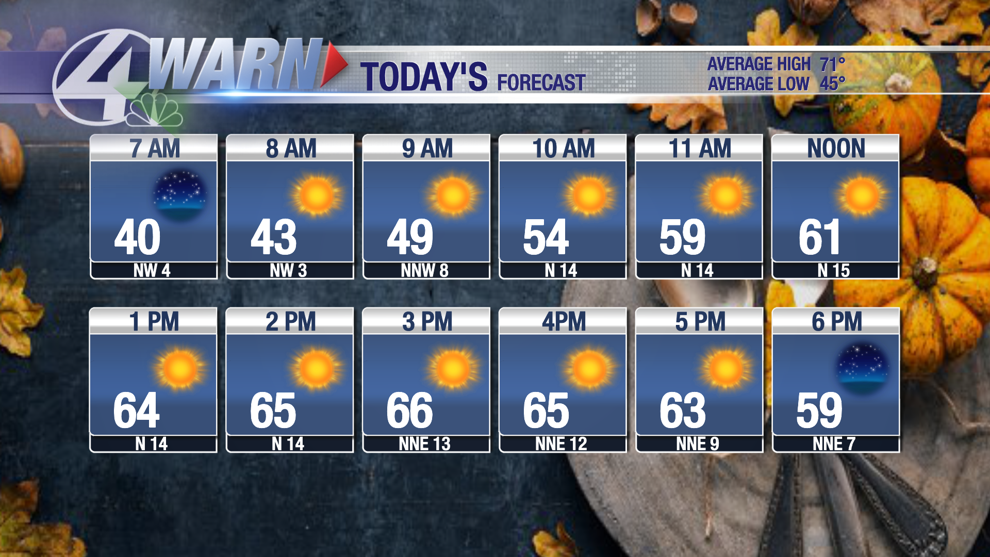 A system will be passing by to the east today bringing colder temperatures and an easterly breeze. Wind gusts could climb to around 20 to 30 mph especially east of Tucson today and tomorrow with highs ranging from the upper 50s to the upper 60s.
If you plan on waking up early for Black Friday or the UA tailgate, it's going to be cold with overnight lows mainly in the 20s and 30s! Kickoff is at noon and temperatures will climb into the mid 60s around that time with tons of sun and a breeze.
Temperatures will begin to climb this weekend with highs pushing back into the low 70s. Expect tons of sunshine through the weekend then a system will bring cooler temperatures and possibly some rain early next week!
Thanksgiving: Cooler and breezy with tons of sunshine. High: 66°
Tonight: Clear and cold. Low: 38°
Black Friday: Cold start, cool afternoon. High: 66°