TUCSON (KVOA) -- Jill Aguilera is the new queen of Arizona Soccer.
In her final game wearing the Wildcat uniform, Aguilera scored a pair of goals, the second on a penalty kick in overtime, to first and foremost beat rival Arizona State 2-1 and second become the all-time leading goal scorer in UA program history.
Aguilera ends her career with 33 goals, one more than Mallory Miller, who had held the record since the end of her time in Tucson in 2005.
The graduating senior from Redwood City, California was named the Pac-12 Player of the Week for her performance.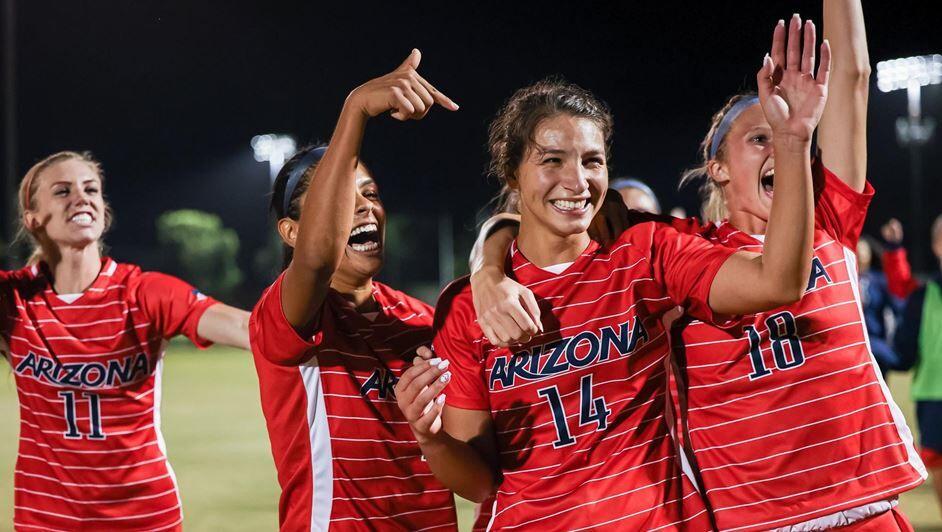 She competed in six seasons for Arizona as a result of COVID-19. Aguilera scored her 33 goals in 92 games. Miller amassed her 32 goals in just 81 contests.
Aguilera led a Wildcats program in transition (5-13, 2-9) this season under new head coach Becca Moros. She finished with nine goals, one assist and 19 points in the 18 matches she started and played in.
If she chooses to continue playing professionally the Chicago Red Stars of the National Women's Soccer League hold her rights.
TERRITORIAL CUP SERIES
The win for Arizona Soccer over the Sun Devils was their seventh in a row. It's the first full point won by the Wildcats this athletic season in the annual rivalry series.
ASU currently holds a 2-to-1.5 lead. Arizona Volleyball secured a half point when they won a five-set thriller over the Sun Devils in Tempe on September 23.
Arizona State's two points came in women's and men's cross country. The Sun Devils finished higher than the Wildcats at the Pac-12 Championships on October 29.
WOMEN: ASU (10th), UA (12th)
MEN: ASU (7th), UA (DNF) (9 teams)
Injuries sapped what chance UA had for a high showing in Utah. The Wildcats were without their top female runner Grace Driskill and No. 1 male Shem Kemboi started the final but was unable to finish.
The final two Territorial Cup Series match ups of the Fall will be contested once again on the same day.
UA and ASU will meet on the football field on Saturday, November 27 in Tempe. It'll be 95th Territorial Cup Game. The Wildcats lead the series 49-44-1.
Meanwhile down here in Tucson the women's volleyball teams will play their second match to end the regular season.
The volleyball match will serve at Noon. No time has been set yet on the football game.
Copyright 2021 News 4 Tucson. All rights reserved.