TUCSON – It was the best of times, it was the worst of times.
Even with a late start, the first half of Monsoon 2017 was epic. Tucson International Airport picked up 6.80" between June 15th and August 7th, all of which fell in the last three weeks of July. This made for the wettest July on record for Tucson & the second wettest month ever recorded in the Old Pueblo.
The 6.80" rain during the first half of Monsoon 2017 registered 3.91" above the normal amount.
Then the second half of Monsoon arrived.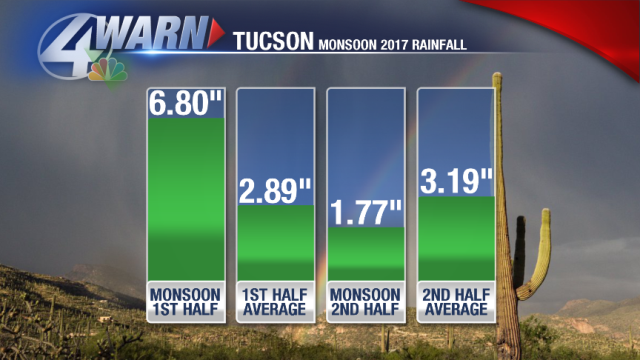 Since August 8th, Tucson has only recorded 1.77" rainfall. The vast majority of that amount fell on August 13th, when severe storms dumped 1.48" rain at the airport. September's rain total sits at a mere 0.03" through the 14th.
Barring measurable rainfall through September 30th, the second half of Monsoon 2017 will run shy of the normal rainfall of 3.19".
Despite the second half swoon, Monsoon 2017 is guaranteed to be one of Tucson's 11 wettest on record. Another 0.06" rain puts Monsoon 2017 into top 10 territory for the Old Pueblo.
Who knew Charles Dickens was writing about this year's Monsoon back in 1859?