TUCSON – If Monsoon 2017 ended today, it would be one of the 15 wettest ever recorded.
Through August 14th, Tucson International Airport has recorded 8.41" of rainfall during the Monsoon. This would rank as the 13th wettest Monsoon in the city's weather records. Monsoon 2017 is also the wettest in 6 years, closing in on 2011's mark of 8.62".
Below is a look at Tucson's top 10 wettest Monsoons. In order for Monsoon 2017 to be one of the 10 wettest on record, Tucson needs to record an additional 0.21" rain by September 30th.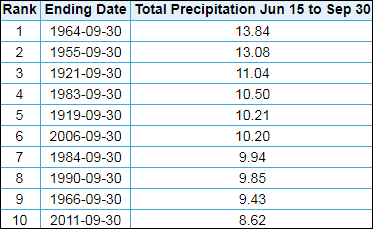 For perspective, the average Monsoon rainfall in Tucson is 6.08".
How much rain has fallen in your backyard this Summer? Below are plots for select Southern Arizona cities and Metro Tucson locations.